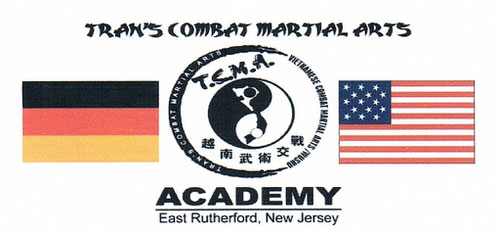 Der Leiter der Krav Maga Academy Germany Günther Benjamins ist offizieller Repräsentant der Tran´s Combat Martial Arts Academy, New Jersey / USA in Deutschland.

Das VIETNAMESE COMBAT MARTIAL ARTS / WUSHU ist ein modernes Selbstverteidigungssystem das sich aus den Stilen Tinh Vo Dao / Vietnamese Combat Natural Boxing - Tranjitsu - Lu Tran Kung Fu und Street Rapid Defense System zusammensetzt.
Gründer und Chiefinstructor ist Grandmaster Quoc Lien Tran. Das System ist in über 40 Ländern weltweit registriert. GM Tran ist einer der meist respektierten Meister unserer Zeit. Er ist unter anderen mit über 60 Hall of Fame Awards und anderen Ehrungen ausgezeichnet.
Desweiteren hat er mehrere Bücher im Bereich der Kampfkünste publiziert sowie diverse Artikel in Fachzeitschriften verfasst.
Master Quoc L. Tran was born and raised in a Christian family in Can Tho, Vietnam. He is a young and talented, world-renowned Vietnamese martial artist who has been involved in the martial arts since he was very young in which he has studied, trained, taught and researched. Master Tran currently holds high black belt rank in several martial arts styles and systems.

Master Tran is the founder of his own fighting styles Vietnamese Combat Martial Arts / Wushu (Tinh Vo Dao/Vietnamese Combat Natural Boxing, Tranjitsu, Street Rapid Defense System and Lu Tran Kung Fu); recognized worldwide, nationally and internationally, over 40 countries. He is one of the most respected martial arts Master in the world today for this contribution, dedication and devotion to the martial arts.

Master Tran is the 35th Generation Shaolin Temple Warrior Secular Disciple from the original Shaolin Temple in Henan Province, China with the official Shaolin Monk name "Shi Heng Peng". Master Tran is also received an honorary Shaolin Monk name "Shi Yan Fu" and was officially accepted as 34th Generation Shaolin Disciple in the art of "Shaolin Lohan Kung Fu".

Master Tran has been inducted into over 60 martial Arts Hall of Fames and recipient of numerous awards throughout the world. Master Tran has been featured on many martial arts magazine covers such as International Martial Arts Times magazine, International Wushu KungFu Times magazine, Martial Arts Masters magazine, TAO magazine, Dragon News magazine, Combat Warrior magazine, Chuan magazine, etc. Master Tran is also a film actor, feature in the movie "The Kill Factor - Thunderkick 2"